Biryani is a classic & everyone's most favorite dish. And as a vegetarian, it is quite difficult to get a good biryani outside. So I thought of sharing my recipe of biryani.
This is flavorful, aromatic and a bowl of happiness. Biryani is a dish prepared with rice, vegetables & spices.
RECIPE OF SUBZ BIRYANI
INGREDIENTS REQUIRED
For Rice:
1 cup Long Basmati Rice
1 Bay Leaf (Tej Patta)
2 Cloves (Lavang)
4 Peppercorns (Kali Mirchi)
2 Star Anise
½ Tsp Caraway Seeds (Shahi Jeera)
1 Tbsp Ghee
Salt to Taste
For Vegetable Marination:
½ Cup Curd
1 Tsp Red Chili Powder
1 Tsp Coriander Powder
3 Tbsp Hyderabadi Biryani Masala
Salt to Taste
½ Tsp Ginger Paste
1 Chopped Potato
1 Cup Cauliflower Florets
½ Cup Peas
10-15 Chopped French Beans
1 Chopped Carrot
Oil
Additional Ingredients for Cooking Vegetables:
Oil/Ghee
2 Bay leaf
2 Cloves
½ Tsp caraway seeds
4 Peppercorns
1 Cup Water
For Garnish:
1 Cup Fried Onions (3-4 Onions)
½ Cup Chopped Coriander & Mint Leaves
2 Tsp Kesar Milk (3-5 strands Kesar Soaked in Milk)
METHOD TO PREPARE SUBZ BIRYANI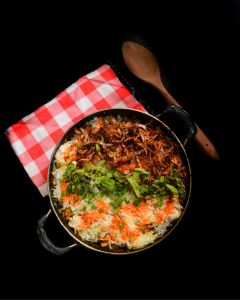 Preparation of Rice:
Wash the Rice thororughly & soak for 1 hour.
Add all the whole spices, ghee and salt.
Pressure Cook for 1 Whistle.
Marinating Vegetables:
In a bowl, add curd, chilli powder, coriander powder, biryani masala, salt, ginger paste. Mix Well.
Add Chopped Vegetables, Mix well and keep it aside for ½ hour – 1 hour.
Preparation:
In a Pan, heat oil/ghee, and add whole spices (bay leaf, clove, peppercorns, caraway seeds).
Now add the marinated vegetables, 1 cup water, and mix well. Cook the vegetables till it is properly cooked.
Turn off the flame and remove ½ of the cooked vegetables in a bowl.
Layering Biryani:
In the same pan, start layering this way – 1 Layer Vegetables, 1 Layer Rice, 1 Layer Vegetables, little Fried Onions, 1 Layer Rice.
Garnish with Fried Onions, Coriander Leaves, Mint Leaves. Pour the saffron milk.
Cover with a lid.
Cook on low flame for 5 mins.
And your biryani is ready to serve. Serve along with Papad, Raita/Curd or Salan.
Additional Tips:
If you want to avoid biting whole spices, you can make a potli of whole spices and add to rice.
If you do not have Shahi Jeera, you can use normal jeera.
You can Dum the Biryani by covering the pan with Chapati Dough or Foil.
FREQUENTLY ASKED QUESTIONS
How to make Fried Onions?
Slice the onions.
In a Wok, heat oil.
Fry the onions till golden brown. (Make sure it doesn't turn black)
---