Litti Chokha is a traditional dish from Bihar. It is quite popular in Mumbai and other cities as Street Food also.
Litti is a stuffed roasted dough ball made with whole wheat that is served along with Chokha which is made with roasted eggplant, potato, and tomato. Litti is quite similar to Baati from Rajasthan, but it very different in terms of taste, texture, and preparation.
Litti Chokha can be enjoyed for breakfast, lunch, or even dinner. It is quite a fulfilling meal. Litti Chokha is served along with Green Chutney, Pickle, and Raddish. Traditionally Litti is made on cow dungs or charcoal. But here, I am going to share a recipe that is easy to make at home on the gas.
RECIPE FOR LITTI CHOKHA
INGREDIENTS REQUIRED FOR LITTI (makes 15 Littis)
3 Cups Whole Wheat Flour
3 tbsp Ghee
Pinch Baking Powder
​1⁄4 tsp Carrom Seeds (Ajwain)
Salt to taste
INGREDIENTS REQUIRED FOR STUFFING LITTI
½ Cup Sattu
½ Inch Long Piece of Ginger
2-3 Chilli
½ tsp Lemon Juice
2-3 Garlic Pods
Coriander Leaves
Water
Salt to taste
INGREDIENTS REQUIRED FOR CHOKHA
1 Big Bharta Brinjal
3 Medium Sized Tomatoes
3 Big Boiled Potatoes
6 Medium Sized Chillies
7-8 Cloves Garlic
2 Inches Long Piece of Ginger
1 tsp Mustard Oil
Salt to Taste
METHOD
METHOD FOR MAKING STUFFING OF LITTI
In a mixture jar, add coriander leaves, garlic, ginger, chilli. Grind coarsely.
Take Sattu in a utensil and add lemon juice, salt, and the grinded masala. Add a little water and mix thoroughly.
Make small round balls and keep aside.
METHOD FOR PREPARING LITTI
In a plate, add flour, carrom seeds, salt, ghee and knead a tight dough using water. (You can also use lukewarm water here)
Cover the dough and keep aside for 20 minutes.
After 20 minutes, again knead it for ½ min.
Shape the dough into small balls.
Now take one dough ball, and make a cup liked shape using hand, and add 1 teaspoon stuffing in the center.
Now start pleating the dough to form a ball shape. Make sure it is tight or firm.
Place the dough balls on a Gas tandoor/ Appe Mould/or on tawa; and cook it on low flame by turning sides regularly till they turn brown. (It took 10 minutes for me)
METHOD FOR CHOKHA
Make a small slit or poke holes in brinjal & tomato on all sides. (So that it roasts properly)
On low flame, roast brinjal and tomato till it turns black from outside.
Roast Boiled Potatoes on low flame till the skin turns black.
Similarly roast garlic and chillis till it is partially black. (make sure to not roast ginger)
Allow the ingredients to cool.
Meanwhile, in a mixture jar, add roasted garlic, roasted chilli and ginger and blend to a smooth consistency.
Peel the skin of brinjal, tomato and potato.
Now you can either mash all these three ingredients with your hand or blend it in a mixture. I used a mixture so it gets mashed evenly.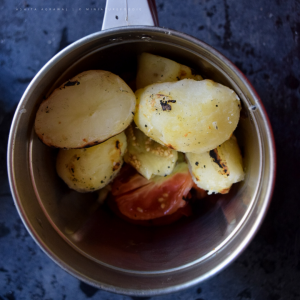 If you are using a mixture, add tomato, potato and brinjal and coarsely churn it. Make sure you don't make a paste of it. A few lumps are needed.
Transfer it to a bowl, add the ginger+garlic+chilli paste, mustard oil, salt and mix well.
SERVING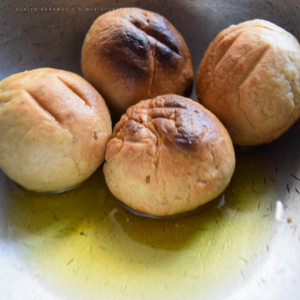 In a Wok, heat 2 tbsp Ghee till it melts and turn off the flame.
Dip the Litti in it and transfer it to a plate. Serve along with Chokha, Sliced, Raddish, Mango/Lemon Pickle, Green Chutney.
Enjoy the flavor of this easy, healthy and quick Bihari Delicacy.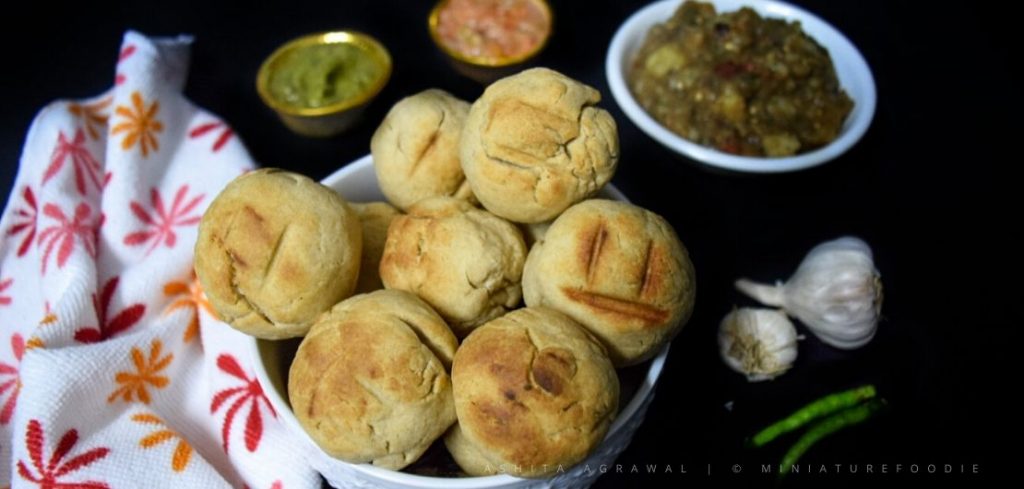 ADDITIONAL TIPS / NOTE
The recipe is my version of Litti Chokha. You can adjust the spices according to your taste or completely follow the method described by me.
If you do not have Sattu, you can make sattu easily at home or completely skip the stuffing part.
You can also make sattu at home. Peel the skin of roasted chana. Roast it on low flame till aromatic. Allow it to cool. Grind it into a coarse powder in the mixture.
---