Masala Tea or as popularly called Masala Chai is known to be the most comforting teas throughout the world. India is very popular for its unique masala chai. It is made of black tea leaves and spices. There is no exact recipe for this tea blend. Every brand, every household has its unique recipe of it.
Masala Chai has been my favorite since childhood, especially during monsoon & winters. A sip of it gives a warm and soothing effect. As much as I love making my own tea blends and masalas, I love sipping readymade ones too, obviously to save my time.
The taste of masala chai depends on the quality of the tea leaves and the spices used to prepare it. The better the quality, the more it is aromatic and delicious.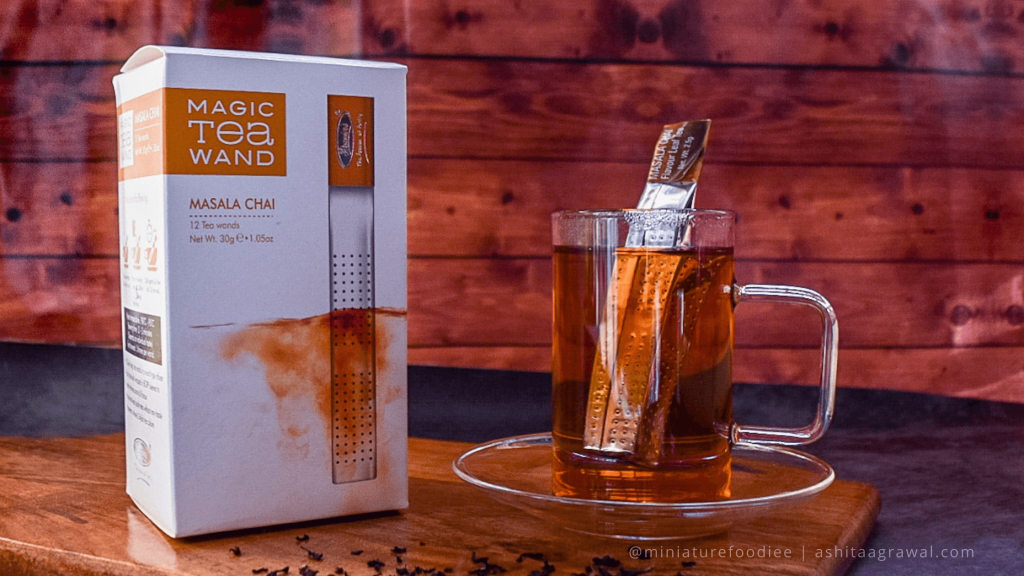 I recently tried Masala Chai Wands from Premier's Tea Moods. Premier's is well known for gourmet and finest quality teas. They produce different teas like Darjeeling, Assam, Nilgiri, Kangra, and many other pure blends of teas.
Needless to say, they have always kept their word in terms of quality and taste. Their Masala Chai is flavored with cardamom, cinnamon, cloves & other ingredients.
I found this tea to be one of the most aromatic ones among all the brands that I have tasted! While all of the spices are balanced nicely, the warm and bold flavor from the cinnamon is quite powerful. If you're a big fan of cinnamon, here is the masala chai you should definitely give a try.
Instructions for Brewing This Tea –
Place a Tea Wand in the Cup
Pour Hot Water and allow it to stand for 30 secs. I prefer covering it with a coaster. But that's completely optional.
Stir gently and allow it to brew for another 2 minutes for the best flavor.
Overall, this masala chai is very smooth and the clean aroma lasts throughout the tea session.
Ingredients: Assam Black Tea, Cinnamon, Cardamom, Ginger, Cloves, and black pepper.
Price: INR 300 for 12 Tea Wands (30gms)
You can buy this tea on Amazon –
---