Do you love having pancakes for breakfast? Do you think it's too difficult to make? Do you think it is time-consuming? Let me answer all of this for you. But before that, let's know a little about pancakes.
Pancakes are flat cakes made with all-purpose flour, eggs, milk, and baking powder usually. The best substitute for eggs to make this recipe is banana. Pancakes are often considered to be fancy breakfast and people have thoughts that it might be difficult to make. But trust me, this recipe is super easy and super quick. Your pancakes will be ready in less than 15 mins.
To make the best pancakes, you need the perfect batter. If the batter is too thick, pancakes would be undercooked on the inside. If its too runny, the pancakes will spread out and won't fluff up. Rather I would suggest to check the consistency of the batter. I like to test the batter with a spoon, lifting it gently above the rim of the bowl. The batter should run slowly and nicely off of the spoon.
Give this recipe a try, and I am sure it will be the most loved breakfast at your home, just like mine!
RECIPE FOR EGGLESS BANANA PANCAKE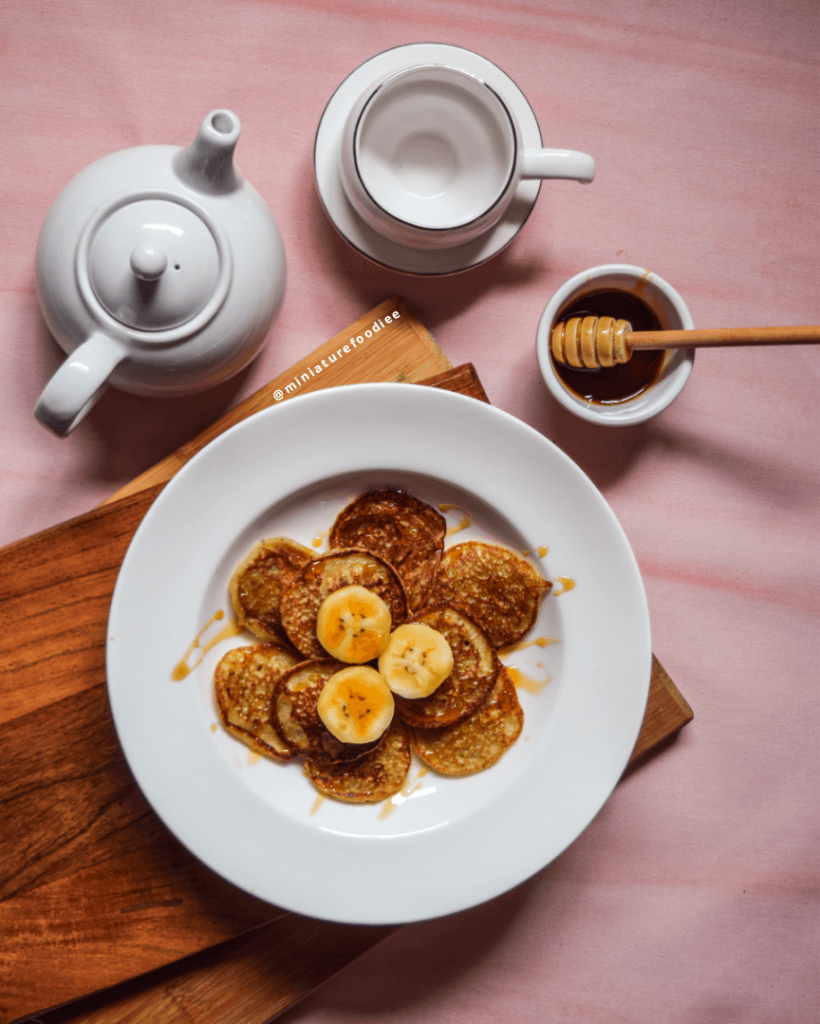 INGREDIENTS:
¼ Cup All-Purpose Flour
1/3 Cup Milk
1 Overripe or Ripe Banana
2 Drops of Vanilla Essence (Optional)
2 tsp Sugar (Optional)
¼ tsp Baking Powder
Butter for cooking
METHOD:
Take a mixture jar, add all the ingredients, and blend until smooth. OR In a bowl, first, mix all dry ingredients, then add mashed bananas, milk, vanilla essence and mix well until you get a smooth batter.
On medium flame, heat a non-stick pan & lightly coat it with butter. When the pan is warm, pour 1 big spoon of batter. Do not spread. Spread some butter around the edges. Cover and cook for 30 seconds. When the edges leave the pan, flip it and cook it uncovered on the other side.
Transfer to a plate. Prepare the other pancakes in the same way. Make sure the pan is not too hot, or your pancakes might turn brown and remain uncooked.
Stack the pancakes on a plate. Top it up with Sliced bananas & Honey or any syrup of your choice.
---