Making yogurt at home is very easy. Not only it tastes delicious, it also saves some grocery money. After making this recipe, I am eating more yogurt than ever before.
The method I have adapted is quite basic. You don't need any special equipment to make this. You can even make a batch of this and store it for 4-5 days in the refrigerator.
This tastes delicious to have for breakfast. You can add different types of ingredients to make it healthy & delicious.
What do you need to make yogurt at home?
To make yogurt, all you need is milk, flavoring ingredient, and two basic starters. Full fat milk provides a more creamy texture and is quite flavorful than other milk.
For the starters, you need Organic Yogurt & Agar Agar. You can buy organic yogurt from the market. Make sure it has "live active cultures" used in the preparation. You can find this in the ingredients written on the pack. The live cultures are actually what turns milk into yogurt.
Here I have used Meron Agar Agar – China Grass Powder. This is an animal-free ingredient. It is a certified vegan product made with seaweeds. This is a perfect vegetarian substitute for gelatin, with superior thickening properties. It helps set yogurt better.
You can buy Meron Agar Agar from Meron, Flipkart, Bakerykart or Amazon.
RECIPE FOR BREAKFAST DRAGONFRUIT YOGURT JAR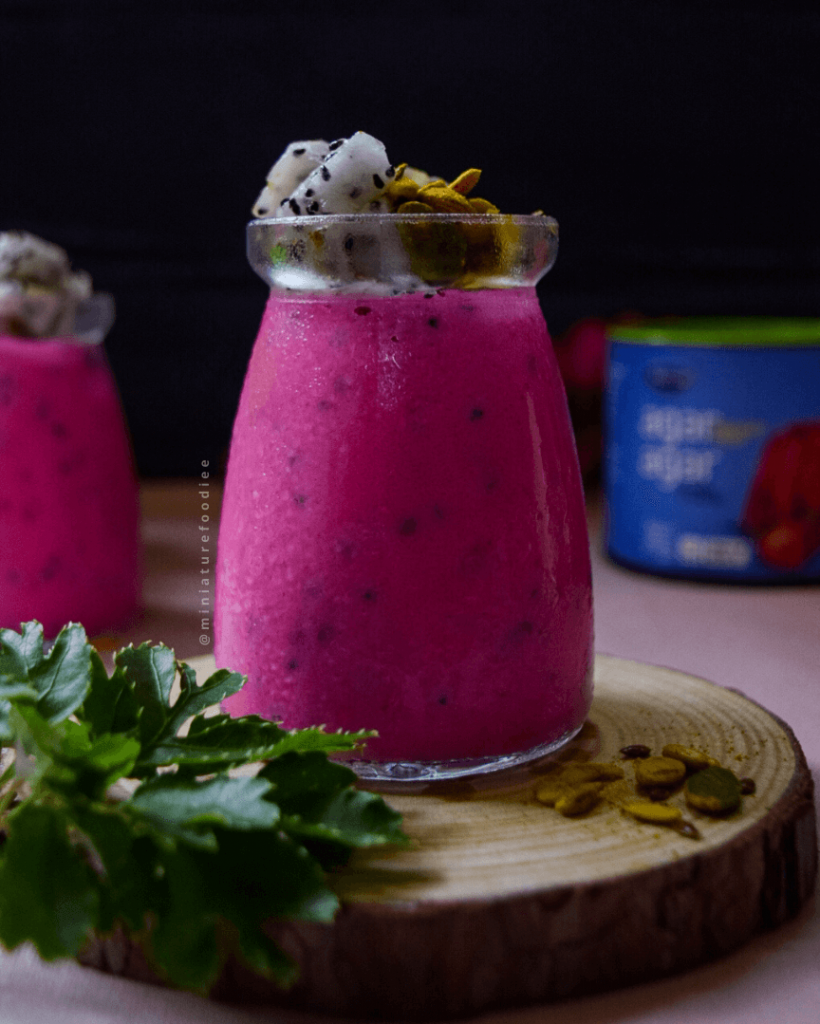 Ingredients for Yogurt:
½ tsp Meron Agar Agar – China Grass Powder
1 ¼ cup of full-fat Milk + ¼ cup Milk for diluting Agar Agar
Puree of one medium-sized Dragon Fruit
1/2 tsp Organic Yoghurt
Pinch of Pink Color (Optional)
For Yogurt Topping:
Chopped Dragon Fruit
Mixed Roasted Nuts & Seeds (Flax Seeds, Almonds, Pumpkin Seeds, Muskmelon Seeds, Sunflower Seeds)
Chia Seeds
Method:
Preparing Agar Agar – In a bowl, dilute Agar Agar in 1/4th cup of milk and set aside for 5 minutes. This helps to get a smooth texture.
Heating the milk – Pour the milk into a vessel and heat on low flame. Turn off the flame right before it starts boiling. Stir the milk gently as it heats to make sure the bottom doesn't scorch.
Bringing the milk to the right temperature – Let the milk cool until it is just warm to touch. Stir occasionally to prevent a skin from forming. (Though if one does form, you can remove it using a spoon.)
Prepping yogurt & agar agar to add to milk – Add organic yogurt to diluted agar agar milk and whisk well. Add this to the warm milk and whisk well until you see a smooth texture.
Adding Dragonfruit – Add pureed Dragon fruit & color to this milk and mix well.
Setting Yogurt – Pour the yogurt in a jar in which you want to set. Make sure you do not move the jar for 1-2 hours until this sets perfectly. Once it sets, refrigerate, and serve chilled.
Topping the Yogurt Jars for Breakfast
Top the jar with Mixed Nuts & Seeds, chia seeds, and chopped dragon fruit.
You can also top this up with oats, bananas, cereal mixes or any other ingredient you would prefer.
---