Podi is popularly served along with Idli or Dosas. Podi means powder in South India. Idli Podi Powder is a spice powder made with chana dal, urad dal, chili, curry leaves, and asafoetida. All these ingredients are dry roasted and then ground to a coarse powder.
The recipe I am sharing is made by mom for many years. We always have a jar of podi at home. I like to eat it with Idlis & Dosas. And sometimes I also like to sprinkle paper dosa with podi powder.
Some Tips to note before making this:
Use fresh ingredients.
Clean chana and urad dal beforehand. Make sure it has no impurities.
Rinse curry leaves and dry them before using them.
You can adjust the spice according to your taste.
The color of this powder completely depends upon the quality & quantity of the ingredients.
You can also use 1 tbsp oil to roast curry leaves and chilies. And dry it for an hour before grinding.
Make sure you do not over roast any ingredient. This can spoil the taste of Podi.
RECIPE OF IDLI POWDER / GUNPOWDER
INGREDIENTS REQUIRED:
6 Whole Dried Kashmiri Red Chili / Sukhi Lal Mirch
3 Whole Dried Spicy Red Chili
12-15 Fresh Curry Leaves / Kadi Patta
1 cup Chana Dal
1 cup Urad Dal
1/2 cup Sesame Seeds
1/4 tsp Asafoetida / Hing
Salt to taste
METHOD:
In a heavy pan, Dry Roast Sesame Seeds, Chana Dal, and Urad Dal separately on low flame. You need to roast till it turns golden brown in color and gives a nice aroma. Stir continuously to roast it uniformly. Remove in a plate and keep aside.
Now in the same pan, add curry leaves and dry roast till it turns crisp. Same way roast red chilies.
Once the ingredients cool down, put all these ingredients in a mixture jar along with salt & hing. Grind it in intervals in order to get a coarse or smooth powder. My mummy generally keeps it a little coarse, but you can also make it completely smooth.
Store this in an airtight container. You can either keep it on room temperature or store it in the refrigerator.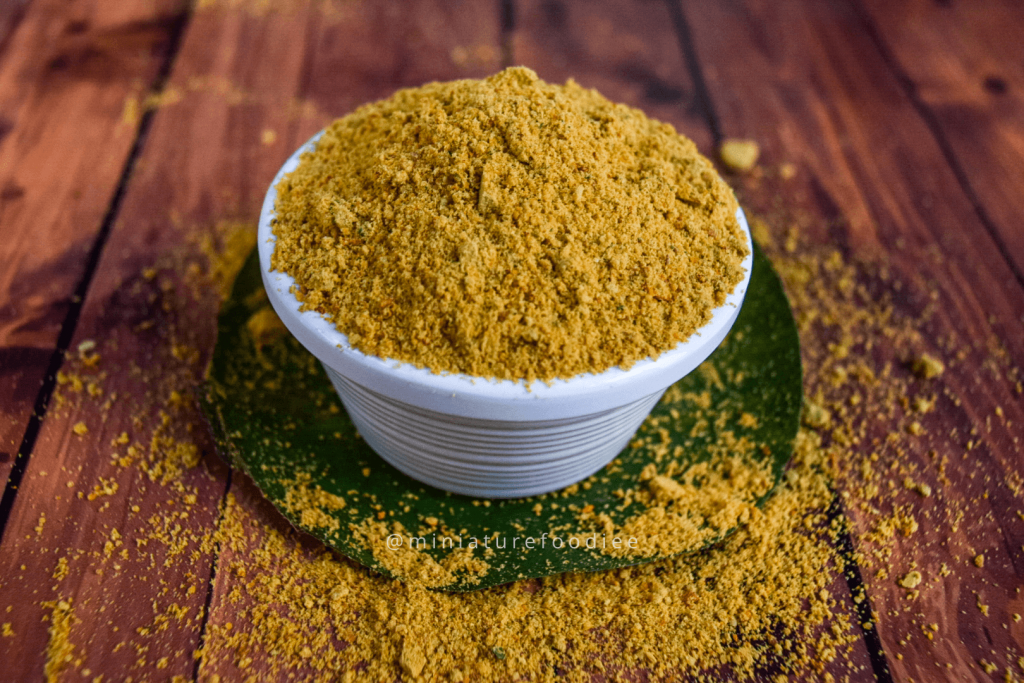 SERVING:
Take 1 tbsp podi powder and put 1 tsp of ghee or oil. Mix and enjoy with idli, dosa, pundi, or any south Indian Snack.
---