Since its World Chocolate Day, I decided to make a healthy, protein-packed and delicious "Eggless Vanilla & Chocolate Chili Pudding" using GRD Chocolate Flavored Superior Protein. When I first decided to cook with GRD Superior Protein, the quickest recipe that came in my mind was Pudding.
Pudding is everyone's favorite, and so is mine! As much as I love eating pudding, I enjoy making it as well. You don't need to be a baker to make a pudding. Nor you need microwave or oven.
It is difficult to find recipes using Whey Protein, but it is much easier to cook one for yourself. This pudding recipe is simple, easy and fuss free. The top layer is a basic vanilla pudding and the bottom layer is a chocolate & chili pudding made with GRD Superior Protein.
Reason I used GRD Chocolate Flavored Superior Protein:
 It is a high-quality protein supplement derived from Cow's Milk
 GRD provides energy, helps build strong immunity, stamina;
 It is fortified with 15 essential micronutrients which are beneficial for general weakness, chronic illness and maintaining growth of the body.
If you are a Whey Protein lover, you must try this out-of-the box recipe. And when you do, don't forget to share images with me on my Instagram @miniturefoodiee.
RECIPE FOR EGGLESS VANILLA & CHOCOLATE CHILI PUDDING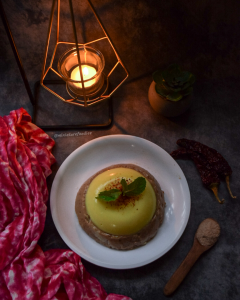 INGREDIENTS:
• 500 ml Milk
• ¼th cup Sugar
• ½ cup Custard Powder
• 1 TBSP Cornflour
• ½ TBSP Chili Powder
• 4 drops of Vanilla Essence
• 3 TBSP of GRD Superior Protein – Chocolate Flavor
METHOD:
• In a Saucepan, add 400 ml milk and allow it to boil for a minute on medium flame.
• Add sugar, and keep stirring till it dissolves completely.
• In a bowl, add 100 ml milk, and mix in custard powder and cornflour. Add this mixture to the saucepan, Mix well.
• Keep stirring till it starts thickening. Now add vanilla essence and mix well.
• Once the mixture has thickened, pour half of it to the bowl to prepare the first layer of Pudding.
• Now, dissolve GRD Superior Protein with ½ cup water. Pour this to saucepan, and keep stirring continuously to avoid formation of lumps.
• Once this thickens, turn off the flame. Add chili powder and mix well till it combines.
• Pour the mixture in the same bowl over the vanilla pudding.
• Cover it with plastic wrap or foil paper and allow it to set for 2-3 hours in the refrigerator.
• Unmold and Serve Chilled. Enjoy!
---